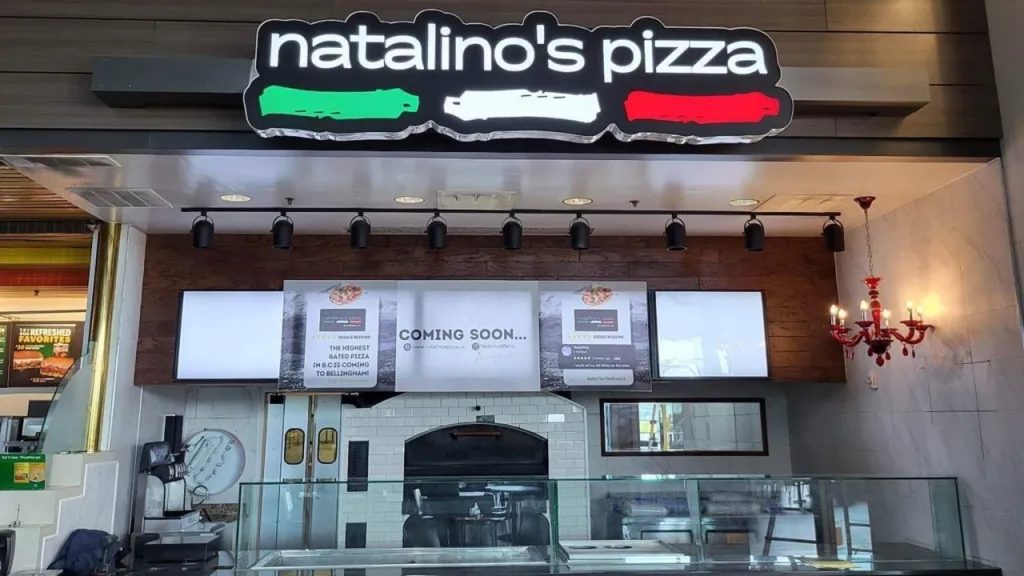 Natalino's Pizza at Bellis Fair Mall circa 2023. — Natalino's Pizza courtesy to BELLINGHAM METRO NEWS
By: Fernando Gonzalez/Bellingham Metro News
BELLINGHAM, Washington. — A highly rated Roman-Style Pizza shop based in Surrey BC "Natalino's Pizza" is opening in Bellingham at the Bellis Fair Mall.
Natanael Gamarrota and his wife are the founders of the establishment, Natanael Gamarrota was born in Rome, Italy where he mastered the art of crafting authentic Roman-style pizza.
Natanael and his wife moved to Surrey from Ontario in 2018 where they had previously lived for 11 years. They opened their first location in Crescent Beach on April 1, 2020, during the first months of the Covid lockdown, "Everyone thought we were crazy but we had no other choice as my wife and I had been laid off due to covid 19. The staff consisted of my wife, my father-in-law, my 2 daughters, and myself. We feel blessed that our business has continued to thrive despite the challenges we've faced." said Natanael
WHY BELLINGHAM?
"Bellingham has always been in our minds. We have customers that drive from here and from Blaine just to eat our pizza, so we had to come to visit. We instantly connected with the city. It's such a beautiful place and the people are so friendly! During one of those many visits, we stopped at the Bellis Fair Mall food court and saw a space that used to be a beautiful pizza shop. We talked with David Prince, assistant property manager at the mall. He shared with us his desire to include family-owned businesses like ours at the mall, his friendly attitude and his willingness to work with us convinced us that this was the right place for our second location." said Natanael
WHEN WILL Natalino's Pizza OPEN?
Natanael tells Bellingham Metro News that they are almost ready to open and are currently awaiting final inspections from the Whatcom County Health Department.
Their goal is to be open by the beginning or mid of June, Natalino's Pizza will be located in the spot in-between Forever 21 and Subway at Bellis Fair Mall.
HIGHLY RATED ESTABLISHMENT
Natalino's Pizza is a highly rated Pizza restaurant with nearly a perfect 5-star with 200 reviews on Google Maps at their Surrey BC location.
According to their restaurants official website, their special dough is "proven to be easy to digest, naturally matured from 48 to 72 hours, making the crust, delicious, light, low in fat, healthy, soft and crispy."
They also use fresh ingredients extra virgin olive oil, and their gourmet square pizzas have "authentic Italian products combined with local flavours elevating taste and quality, creating an absolute Italian delicacy that you'll love in every bite."
At the Surrey location, they have many items to pick from on the menu including signature selections such as "King Pepperoni", "Queen Margherita", "Lovely Prosciutto", "Montanara".
Natalino's Pizza was voted "Best Pizza in Surrey" in 2023 by Restaurant Guru.